Enable or Disable Commands
---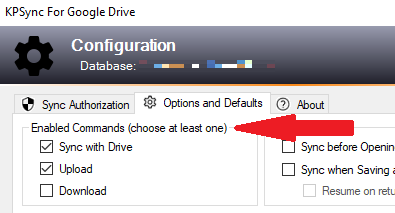 The Problem: the Sync with Drive command is directly adjacent to the Upload to Drive command on the plugin menu, and an accidental slip of the mouse might end in a minor catastrophe.
To help avoid that hazard, you can enable the commands you use most, and disable those you don't.
What Happens
Commands that are checked are enabled on the plugin menu; unchecked commands are disabled.
Disabling the Sync with Drive command also disables any enabled auto-sync options.
How it Works
Click Configuration on the plugin menu to open the dialog, then the Options and Defaults tab shown above.
Select the commands to be disabled/enabled.
Initially, you must explicitly disable commands. The first time the plugin is installed, all commands are enabled.
At least one command must be enabled.